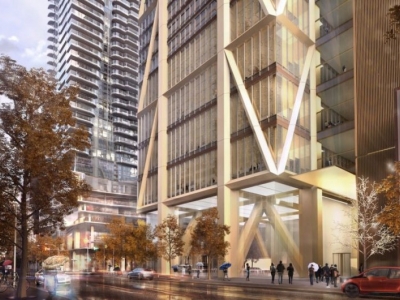 Foster + Partners has begun construction on a supertall skyscraper in Toronto's business district, which is set to become the country's tallest building at 306 meters, reported The Dezeen.

It will be Canada's tallest inhabitable building and it's second-tallest man-made structure after the CN Tower, a 553-metre communications and observation tower.

At 85 stories and over 300 meters in height, the building will be classified as a supertall skyscraper.

The rectilinear design by British firm Foster + Partners and Ontario-based Core Architects will feature an expressed structure, with vertical, horizontal and diagonal elements covered in "champagne bronze" colored cladding. The skyscraper will be broken up into a series of blocks by regularly spaced bands that cut into the structure, correlating to the placement of the building's mechanical floors.

The One's upper floors will be dedicated to living space, providing approximately 560 apartments. This will include several duplex penthouses offering inhabitants impressive views out to Lake Ontario and beyond. The eight lowest levels will be occupied by shops, restaurants and cafes linking with the city's Yorkville neighborhood.

To keep the building's base exclusively for commercial use, all of the homes will be accessed via a sky lobby above the shopping podium. Here there will be communal spa and fitness facilities, as well as an outdoor terrace, library, and formal entertainment rooms.