Yerevanians love boasting about their city being the elder brother of "eternal Rome". You may probably think it's merely out of endless love toward their home town. But the reason is not only subjective.
Yerevan is in fact one of the oldest surviving capitals of the world. It's history dates back to 782 BC, when King Argishti of Urartu founded Erebuni fortress which later grew into a town.
Unfortunately, ancient and medieval buildings hardly survived to date because of natural disasters, political circumstances and foreign invasions: Yerevan used to house a number of early medieval churches (for instance, Poghos-Petros, 4-5th centuries, standing in place of today's Moscow Cinema) which were later destroyed under the atheistic Soviet rule.
However, some late 19th-century and early 20th century buildings are still sprinkled throughout the city giving it a unique charm and charisma. Let's start from the oldest ones and follow up with the Soviet- era architectural gems.
Saint Katoghike Church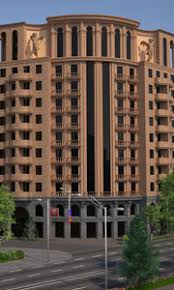 Live in Armenia
Majestically standing in downtown Yerevan, Abovyan-Sayat-Nova crossroad, Saint Katoghike Church is the only surviving medieval church in Yerevan. Most probably, it was built in the 13th century. For a long period, the church was buried and forgotten and a new basilica was built in place of it. And it was only in 1936, when the basilica church of the Holy Mother of God was demolished by the Soviet government, that the 13th-century chapel of Katoghike was re-discovered.
Find your new home in Armenia
The Language Institute was soon founded right in front of Katoghike to "disguise" it, and it was only a few years ago that the Institute was pulled down a new religious complex named after Saint Anna was constructed adjacent to Katoghike. It's currently the Yerevan residence of Catholicos of All Armenians (Supreme Patriarch of the Armenian Apostolic Church).
Blue Mosque
Find your new home in Armenia
Historians have different versions regarding the date of the Mosque's foundation: however, some came to agreement that it dates back to the early to mid 19th century, when Yerevan region was under Persian rule. At that time, Yerevan housed another 8 mosques, and the Blue Mosque is the only "survivor" which was closed during Soviet era.
Find your new home in Armenia
It was in the early 20th century that the Mosque re-opened its doors. With its modest interior and exterior tiles, small minaret and lush garden with flowerbeds, it's one of the most enticing and tourist-friendly sights in Yerevan.
Golden Tulip Hotel (former Yerevan Hotel)
Find your new home in Armenia
Besides being one of the favorite tourist choices in Yerevan when it comes to luxury accommodation and service, the hotel building is marked with unique architectural tradition.
Real estate Armenia
In fact, it was the first hotel of Yerevan built in 1926. Whether or not you'll choose to stay in this hotel don't pass by it: the rich historical and cultural heritage gives special charm to building which is worthwhile seeing during your trip to Armenia.
"Black Building" of Yerevan State University
Real estate Armenia
Called "Black" by students of "mother university", the Yerevan State University building of Economics, History and Theological Departments is one of the oldest ones in the city: it's recently marked its centennial!
Initially it housed a pedagogical seminary, and it was only in 1923 that the building made part of the Yerevan State University, alma mater of outstanding scholars and historians of the time. With its unique architectural solutions and exquisite ornaments, it's been given a status of a historical and cultural monument.
National Opera and Ballet Theater
Real estate Armenia
The groundbreaking ceremony of one of the icons of Yerevan as modern Armenian capital, took place in 1930 to celebrate the 10th anniversary of Soviet Armenia; it was 3 years later, in January 1933, that the building was officially opened.
Real estate Armenia
The opening of "Opera" (this is how Yerevanians call it), the masterpiece of the city's then-architect Alexander Tamanyan, marked a new era in Armenian music and culture: one by one, prominent pieces by Armenian and foreign composers were staged and have been performed until now, making the city a vibrant cultural hub. (By the way, the tickets for local and foreign performers' concerts are much more affordable than European prices, so take advantage and plunge into cultural life in Yerevan!)
Yerevan Brandy Factory
Real estate Armenia
You might have probably heard about Winston Churchill's favorite brandy choice, Armenian "Ani" brandy. You'll then be curious than Armenian brandy traditions are traced back to 1887, when commercial dealer Nerses Tairyan launched the first Wine and Brandy Factory in Yerevan, and it was in 1894 that the French brandy's "fellow", Armenian brandy appeared in Tairov's factory which however didn't repeat the fragrance and taste of the French one and chose its own "path".
Real estate Armenia
As for the present-day building, it was founded in 1953. Perched on a hill against the majestic background of biblical Ararat, the brandy-color (as the architect originally conceived it) building looks in sync with Hrazdan gorge, the rocks and the city panorama and, besides, is home to must-go Ararat Museum of Yerevan Brandy Company.
from: ayastour.com